If we manage your domain name for you, you will only ever get domain renewal notices from us via email. We do not issue paper invoices.
Several customers have noew reports receiving letter from:
The domain Registry of America
Domain Renewal Group
Domain Registry of Europe
EU Registry Services.
These companies are in no way connected to BetterWebSpace or any of it's partners.
Here is an example of one: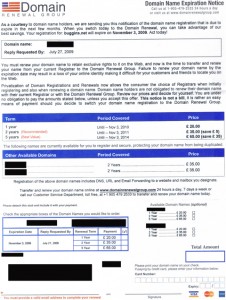 The letters appear to be renewal notices, but looking more closely you'll find that they are offers to transfer your domain to them. You are of course entitled to do this, but you will be tied into their fee structure and not ours and may lose access to some of the services we provide you with.
We urge you not to take up the offers in these letters.