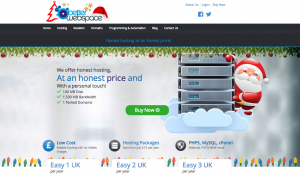 That's the problem with redesigning your website later in the year, we've already had to redesign it for Christmas…
It's allowed to be Christmas now, there's always a ban on discussing it in the office until we've heard Fairytale of New York on the radio whilst driving somewhere, but that finally happened this morning.
We've redecorated the BetterWebSpace site, the design team have created the graphics and the techies have automated it so the Christmas decorations will automatically take themselves down (nobody wants to be accused of leaving their decorations up too long do they?!).
If you'd like us to redecorate your website (and take them down again for you), let us know ASAP.